The short answer is 'yes', but you're probably not reading this article in search of such a brief, and frankly, abrupt resolution. Thus, let's cut to the chase and delve into the nuances of the use of CBD Oil for stress and anxiety relief without any further delay, including the scientific evidence to back any potential stress-reducing claims and how dosage is key when it comes to any possible anxiolytic properties.
In order to understand how Cannabidiol influences the stress response and anxiety, it's useful to think of CBD as the counterpart of THC – the psychoactive Cannabinoid also contained in Marijuana – and here's why. A curious observation made in research from back in the 1970s tested how THC and CBD influence each other when administered to healthy adults. A dose of THC extract alone increased the participants' heart rate and they exhibited acute psychological effects ranging from anxiety to panic – all classic signs of the fight-or-flight response emblematic of stress. However, when a CBD extract was combined with THC and administered to the participants, the acute stress and anxiety symptoms participants experienced were reduced dramatically. Therefore, the addition of CBD managed to temper the stress-inducing effects of THC.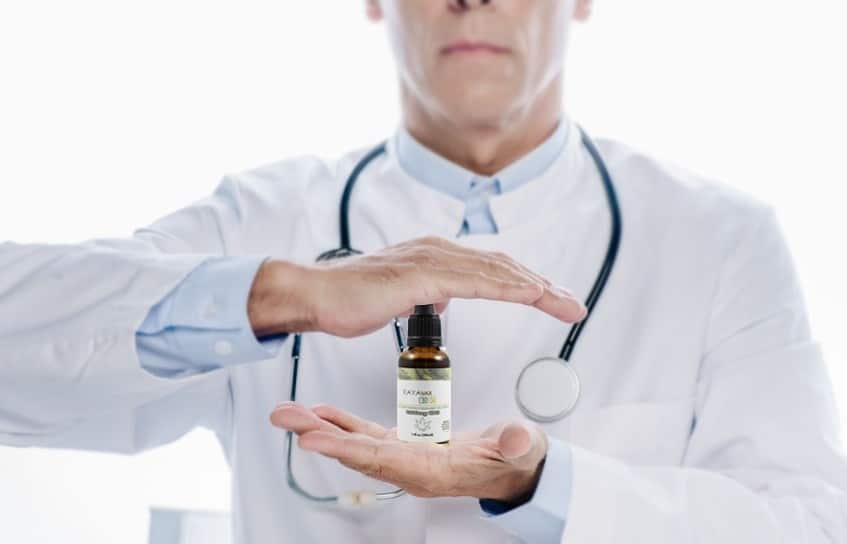 CBD Balances Out the Effects of THC
Since the 1970's, researchers have learned a lot more – namely that CBD alone can have a beneficial anxiolytic effect on both humans and animals. Not only is it capable of reducing artificially-induced stress in a lab setting, such as experiments where healthy subjects were given CBD before public speaking, it could potentially have a positive stress- and anxiety reducing effect on those suffering from such anxiety disorders as social anxiety disorder (SAD) and post-traumatic stress disorder (PTSD).
The use of CBD was not only capable of reducing the immediate symptoms of stress in the short term, such as an increased heart rate and feelings of anxiety and restlessness, but also helped lower levels of chronic stress, sleeplessness and traumatic memories in PTSD patients. There is even some evidence suggesting that CBD may help relieve insomnia induced by anxiety and stress, and help prolong the duration of one's sleep.
Fight Stress And Anxiety With Our Premium CBD solutions
That being said, it needs pointing out that few of these studies suggest that CBD should be the only treatment for insomnia or any anxiety disorder. Instead, Cannabidiol can become an excellent complementary aid for those who suffer from anxiety disorders, chronic stress and occasional anxiety, especially since it's widely considered safe and well-tolerated even in high doses.
The recommended dosage will depend on your weight and personal preference. Most resources suggest starting with a small dose, 20-40 mg a day for the first 7 days and then building up to a dosage you feel comfortable with, in 5 mg increments every week. Please note it's not recommended to use CBD oil more frequently than every 4-6 hours.
The Optimal Dosage of CBD Oil for Combatting Stress and Anxiety
Having read quite a number of scientific articles about the use of CBD for stress and anxiety, one of the most unexpected observations made was the surprisingly wide range of doses used in experiments – from 10 mg to 1.500 mg! Interestingly, a 2015 review article claims that moderate doses (around 300 mg a day) might have the most beneficial stress and anxiety relief properties. Both high and low doses were observed to be less effective in that respect.
However, in practice, there is plenty of room for person-to-person differences in how sensitive they are to CBD, so it is still recommended to build up the dosage of CBD gradually, especially if you're a newbie to CBD products. The generally accepted dosage for beginners is 20-40 mg a day for the first week, and you will be able to slowly increase the dose by 5 ml every week if necessary. Some will experience the calming and relaxing properties of Cannabidiol immediately or after just a few uses, while others may require feeling through their experience and increasing their dosage to reach the desired results.
So, are you ready to experience the stress and anxiety combating properties of CBD first hand?
Our Premium Edibles CBD products
Image source: 123rf 123rf lightfieldstudios